Overview
Founded in 1889, Chicago Pneumatic is a pioneer and international leader in the pneumatic tool industry based out of Rock Hill, South Carolina. A respected manufacturer of air compressors, power tools, generators, light towers and hydraulic equipment, their products are sold in over 150 countries through a worldwide distribution network.
The Problem
Chicago Pneumatic (also known as CP) regularly attends trade shows where they exhibit their vast selection of products. They often allow trade show attendees to sample various Chicago Pneumatic power tools at their showroom. Unfortunately, many of the applications used in these demonstrations generate fugitive fumes and dust. Another challenge was holding parts in place while using their tools.
Chicago Pneumatic requested that we provide a semi portable unit with a heavy-duty crate and a built-in ramp for ease of transporting the unit.
The Solution
To address CP's problem, Diversitech provided a 3' x 4' Downdraft Table with side and back walls for use during trade shows and in their show room, an LED light kit for better visibility, and a custom-built crate featuring a ramp for ease of transport, and a lexan sneeze guard was added to prevent any dust from escaping. Additionally, a custom work surface was installed that allows CP to use their Strong Hand Tools, fittings to hold their parts in place on the table during the operation.
This solution proved to be a tremendous success due to the versatility, portability and ease of use. The cherry on top, almost literally, was the custom-painted Chicago Pneumatic red color scheme based on the RAL Chicago Pneumatic uses in their branding.
Conclusion
Diversitech's Downdraft Table was a huge success with Chicago Pneumatic. Diversitech was there to unveil the unit to Chicago Pneumatic's staff and vendors at their Grand Opening ceremony.
Among their favorite features were the clear lexan, Strong Hand work surface, and CP red paint scheme however what impressed the Chicago Pneumatic team most was how quietly and efficiently the unit operated. The unit was featured at Chicago Pneumatic's booth at Fabtech 2018 in Atlanta.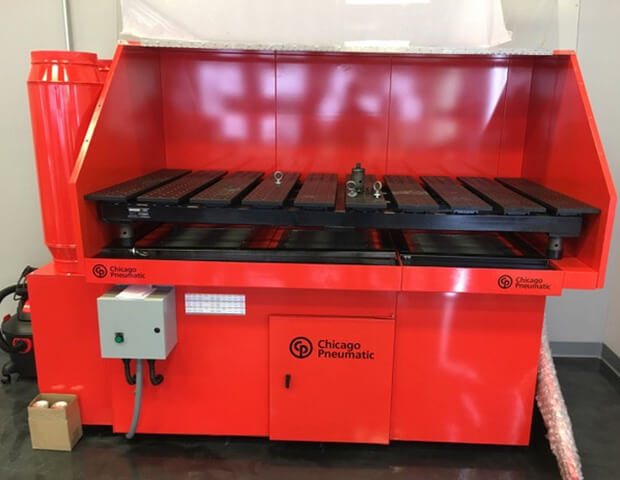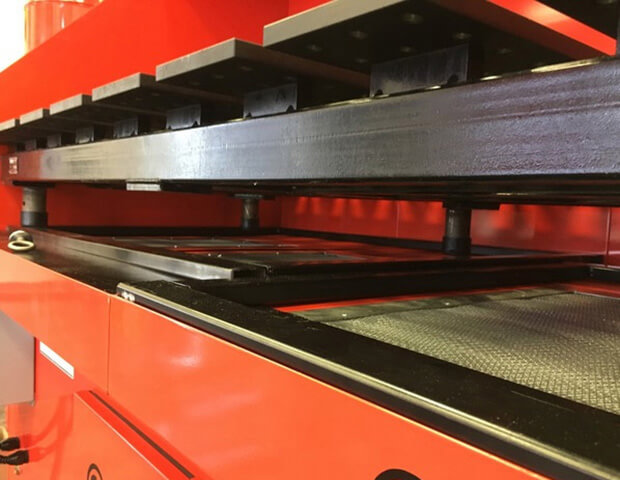 ---
Popular Products for Metal Working