Overview
Based in Toronto, Ontario, and with operations throughout North and South America, Sputtek is a surface treatment center which provides PVD and Thermospray detonation coating services.
The Problem
Sputtek manufactures metal parts needing to be deburred, polished, and cleaned before they can be used. These parts are varied in size depending on the project and the client insisted on the collection of all dust for reasons of employee safety and shop cleanliness.
The Solution
A centralized system was installed which allowed for four (4) deburring stations to be linked up to one centralized dust collection system, with a 15 HP motor. Each station has their own table-mounted side-draft hood which allows for dust to be eliminated as it is being generated during grinding. The hoods were supplied with sliding gates so that unused stations could be tuned off to increase suction at the benches in use.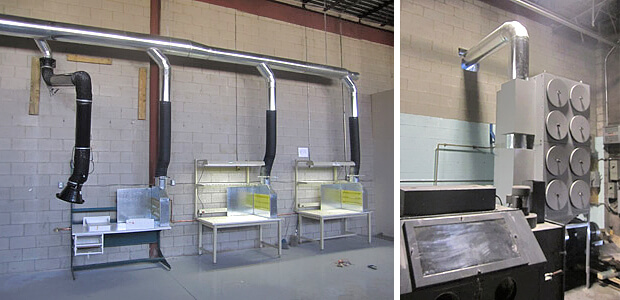 ---
Popular Products for Metal Working