Downdraft Tables and Welding Booths for a Clean and Safe Learning Environment
The Problem
The Baton Rouge Community College AWS Welding Training Program takes individuals through a comprehensive welding with hands on training in MIG, TIG and Stick principles, working with steel and other alloys in plate and pipe configurations. The school submitted a bid to supply 26 welding booths for locations in New Roads, Baker, Plaquemine and Baton Rouge Louisiana along with a request for 20 downdraft tables for their Port Allen Facility.
The Solution
Diversitech can provide custom engineered solutions for many vocational college applications. In the case of Baton Rouge, we manufactured custom DD 2x4 Downdraft Tables powder coated Baton Rouge red.
The tables included a minihelic differential pressure gauge to inform staff that the filters were in need of service. The tables also included the welding kit with side and back walls to contain fumes, metal mesh pre-filters to arrest sparks and a grounding lug for students to ground their welding machines. The welding booths specified were 5' wide by 5' deep; open on the front with welding curtain to shield students from weld flash. They also included a mounting bracket for a fume arm to be Installed. Baton Rouge Community college was highly satisfied with Diversitech's solution for their welding fume extraction needs.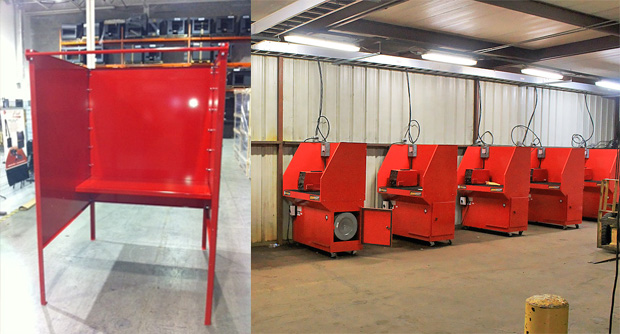 ---
Popular Products for Educational Solutions